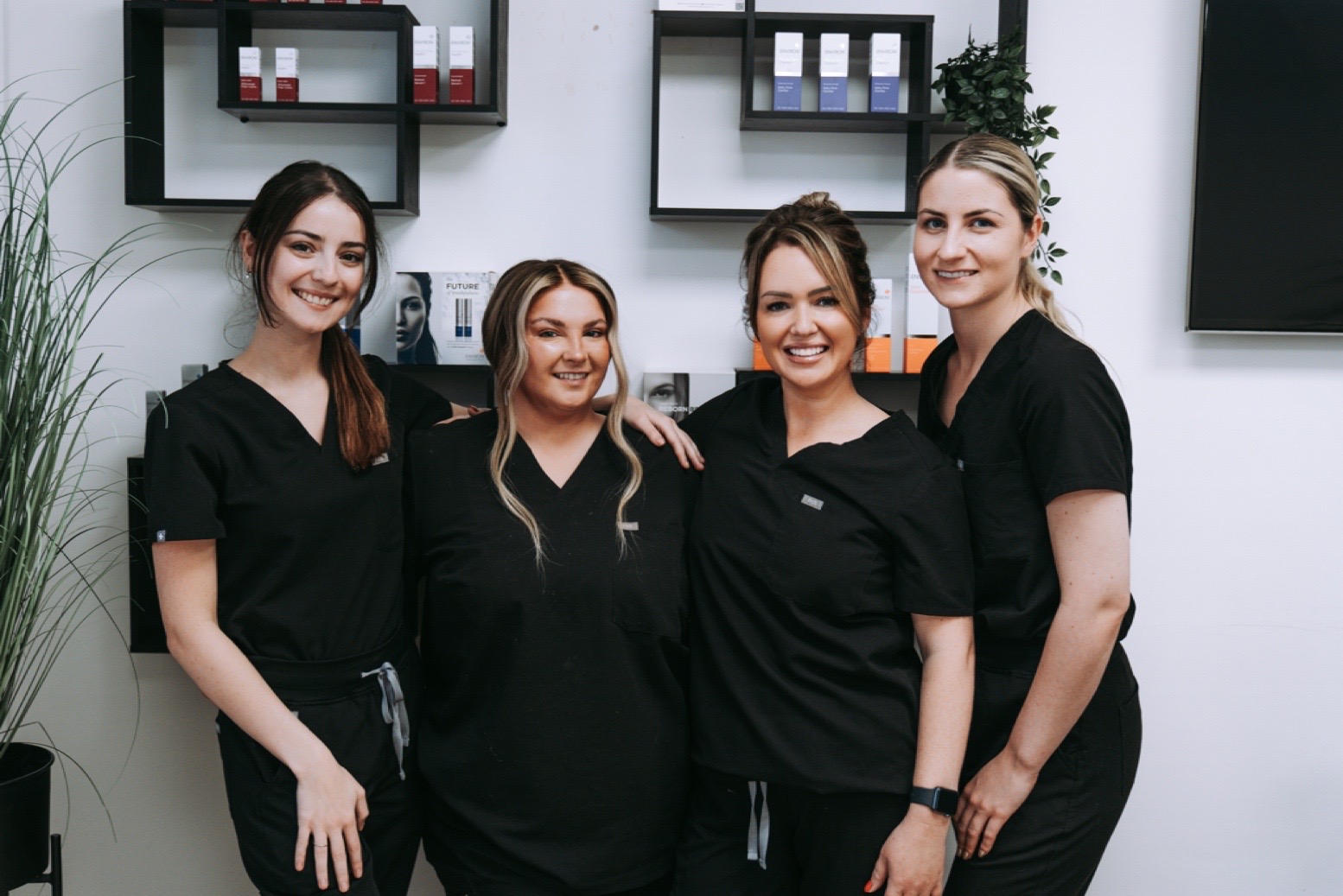 From left to right, Amelia, Victoria, Karina, Ashleigh
ProSkin Clinic & Health UK, a distinguished Skin Specialist Clinic located in Gloucester, was established in 2017 under the visionary leadership of our Director, Karina Thomas.
Drawing from her personal journey of grappling with various skin concerns during childhood, coupled with extensive experience collaborating with renowned global skin care brands, Karina has honed her expertise as a VTCT Skin Clinician, a qualified Teacher, and a VTCT Assessor. It was against this backdrop that the foundation for our business was laid, with a resolute purpose:
"ProSkin Clinic's mission is to be a beacon of hope and transformation for individuals experiencing problematic skin conditions. Our fundamental aim is to empower our clients to achieve and sustain better levels of skin health, ultimately enhancing their overall quality of life."
What sets us apart at ProSkin Clinic & Health UK is our unwavering commitment to our mission. We're not just in the business of skincare; we're in the business of changing lives.
Here's what makes us different:
1. Personalised Care: One size does not fit all when it comes to skin. We understand that each person's skin is unique, and our approach reflects this. We offer personalised, Professional, Doctor and Dermatologist approved Skin Plans that cater to the individual needs and concerns of each client. Our mission is not to sell products, but to provide solutions tailored to your specific condition.
2. Expert Guidance: We work in collaboration with Doctors and dermatologists to ensure that our treatments and products are not only effective but also safe and recommended by experts in the field. Our commitment to science-backed solutions is at the core of our mission.
3. Advanced Protocols: Our commitment to staying at the forefront of industry trends and technologies means we employ the most advanced Treatment Protocols available. We invest in the latest advancements, ensuring our clients have access to the best treatments.
4. Transformative Confidence: We believe that clear, healthy skin is not just a physical achievement; it's an emotional and psychological transformation. Our mission is to boost the confidence levels of our clients, helping them walk tall and feel good about themselves.
5. Quality of Life Enhancement: Our ultimate goal is to enhance the overall quality of life for our clients. We understand that skin issues can be more than just a cosmetic concern; they can affect self-esteem and daily life. By helping our clients achieve happy, healthy, clear skin, we aim to contribute to their happiness and well-being.
In summary, ProSkin Clinic & Health UK is not just a skin clinic; it's a sanctuary for those seeking a positive change in their lives. Our mission is deeply rooted in the belief that everyone deserves to feel confident and comfortable in their skin.
What sets us apart is our personalised approach, expert guidance, cutting-edge protocols, transformative confidence, and the ultimate enhancement of our clients' quality of life. We are driven by the desire to make a meaningful difference in the lives of those we serve.
1. Integrity
At the core of our approach is unwavering integrity. We hold honesty, openness, and transparency as paramount values as we pursue our goals, all while remaining firmly within the bounds of our professional practice.
2. Empathy
Irrespective of background or condition, we extend a profound sense of empathy and understanding to our clients. We recognise their unique challenges, pain points, and the ways these factors can profoundly impact their well-being and day-to-day lives.
3. Service Excellence & Quality
Our commitment revolves around consistently surpassing client service expectations. We aspire not just to meet but to excel in our delivery of services, ensuring the highest level of quality in everything we do.
4. Community Building
We regard ourselves as a closely-knit family. We are dedicated to fostering robust support networks and knowledge-sharing across the nation. Through these connections, we aim to create a unified and strong community.
5. Passion for Transformation
At the heart of our company lies an unwavering passion for bringing about transformative results and improving lives. This is the driving force behind our operations, and we celebrate both significant milestones and small victories. In doing so, we inspire not only ourselves but also others, fostering a collective commitment to going the extra mile to deliver the gift of skin confidence to individuals nationwide.
Publications & RecognitION