GREAT SKIN starts with a great consultation.
Don't settle for generic solutions or skincare fads.
Experience the transformative power of a personalised skin consultation and bespoke skin plan.
Book your Skin Consultation today with an expert and take the first step towards a lifetime of confidence.
Are you ready to take the first step towards achieving your dream skin?
Our team of expert skincare clincians are here to guide you on a transformative journey.
Our Consultation Process
Step 1: Skin Assessment
Kickstart your skincare transformation with a Skin Assessment.
Simply provide us with a few details about your skin concerns, and our clinicians will analyse your information to gain valuable insights into your skin's needs.
Step 2: Personalised Consultation
Based on your Skin Assessment results, we're thrilled to offer you an exclusive opportunity for a Personalised Consultation with our highly trained skincare specialists.
During this one-on-one session, our professionals will assess your skin type, analyse its current condition, and identify any underlying issues.
We'll provide you with valuable insights, knowledge and recommendations, provide you with tailored professional grade product and supplementation advice only available through our Clinic Prescription, lifestyle adjustments, skincare routines that suit your individual needs and develop a tailored plan just for you.
Step 3: Customised Skincare Solutions
Following your consultation, our experts will curate a customised skincare regimen designed specifically for your skin type, concerns, and goals.
We will recommend a selection of our premium professional products and treatments, ensuring that you have all the tools you need to achieve your desired results formulated in a bespoke skin plan and sent directly to your inbox.
Step 4: Ongoing Support and Guidance At ProSkin Clinic & Health UK
We believe in providing comprehensive care even beyond the consultation.
Our team will be there to support you throughout your skincare journey, offering expert advice, answering your questions, and adjusting your regimen as needed to optimise your results.
Step 5: Book Your Skin Consultation
Ready to experience the ProSkin difference? Take the next step and book your Skin Consultation now.
Our friendly team are standing by to assist you and ensure you receive the exceptional service you deserve.
meet our client hollie...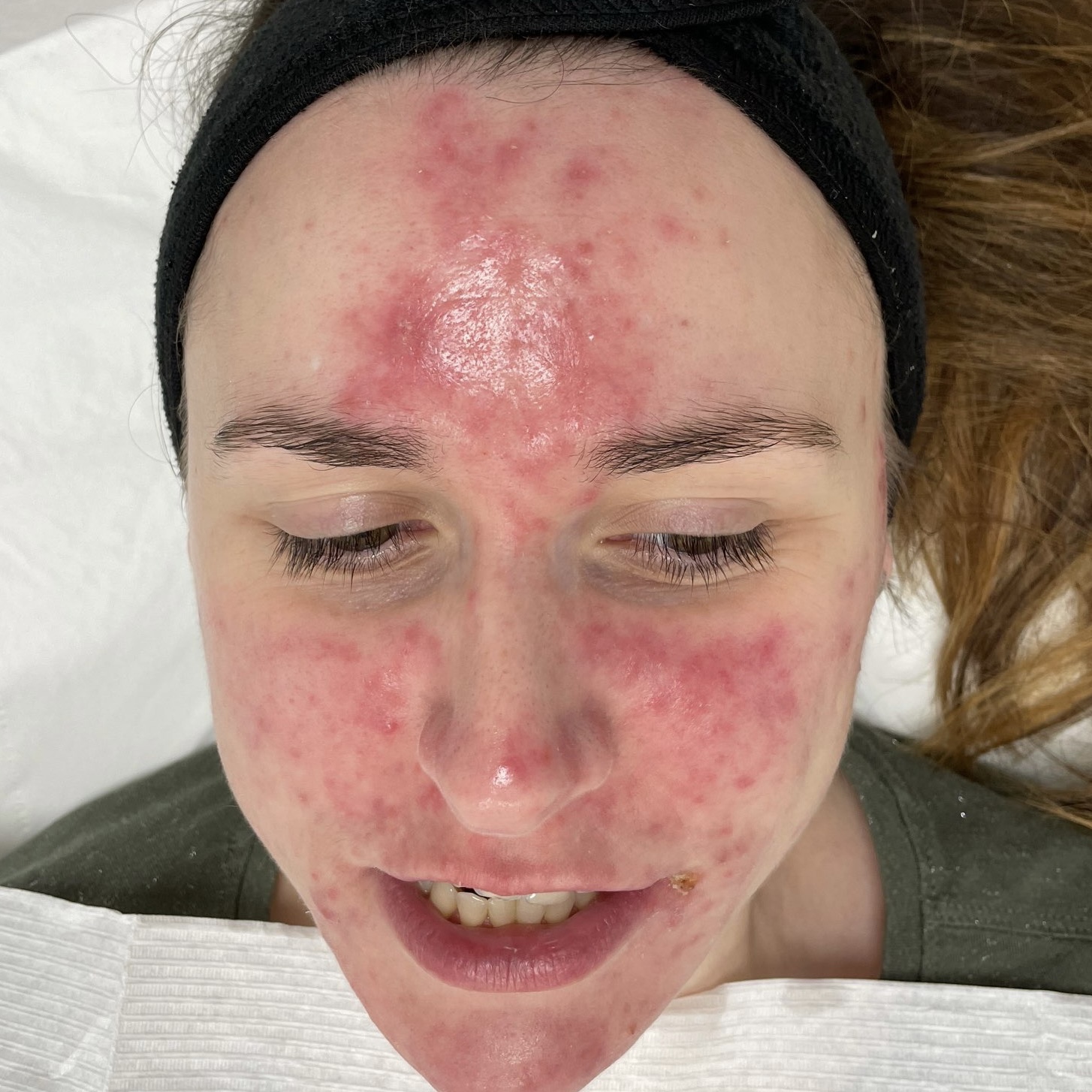 Meet our client Hollie who suffered with terrible breakouts, redness and inflammation after having her first child.
Hollie doesn't enjoy wearing makeup, with a young family she doesn't have lots of time to spend getting ready, Hollie wanted to look healthy and flawless with minimal effort.
After her consultation she left with:
📝 A thorough Skin Health review and a detailed Skin Analysis, she discussed her current skin concerns, problems and highlighted her desired skin goals.
🎓 An understanding of the basics that were causing her problematic skin.
🧴 A detailed skin care and supplementation plan that she was able to implement immediately at home.
🧖‍♀️ A 12 week treatment plan designed and tailored specifically to sterilise bacteria, reduce inflammation and calm the redness of her skin – with results seen after just one session!
💻  Her full pdf plan sent via email
HERE'S HOW HOLLIE'S GETTING ON...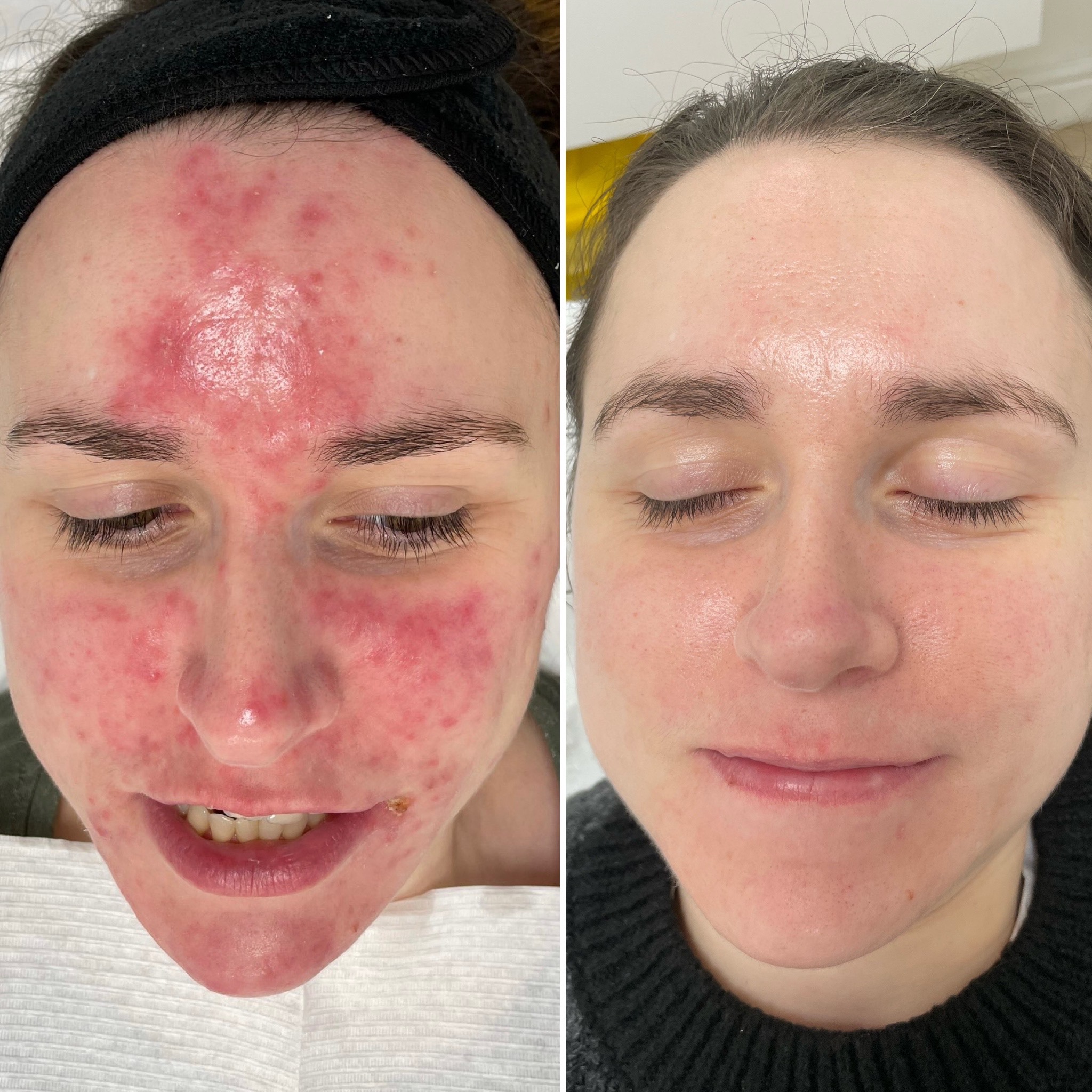 "I honestly, I only wish I had come to you guys sooner… I was worried when I first came into clinic that my skin would've been one of the worst cases you had seen but you have always made me feel so comfortable and completely put me at ease. So, from the bottom of my heart, thank you for giving me my confidence back"
ARE YOU READY TO HAVE THE SKIN YOU'VE ALWAYS DREAMED OF?