Description
Due to the active nature of the ingredients within the Environ® range, all new customers will need to complete this short consultation form before their order can be dispatched. Please ensure this has been completed before submitting your order.
RAD Shield® Mineral Sunscreen – A powerful physical sunscreen innovation, born out of Dr Des Fernandes' pioneering sun care philosophy. RAD Shield® Mineral Sunscreen's light-weight, transparent formula contains a highly effective complex of Zinc Oxide, Titanium Dioxide, antioxidants and other active ingredients to physically sheild skin safely, effectively and beautifully everyday.
Benefits of RAD Shield® Mineral Sunscreen
This non-oily sunscreen helps to protect the skin against the damaging effects of UV and infrared
light with a shield of broad spectrum reflective mineral sunscreens.
How to use
First apply your recommended Environ vitamin A moisturiser.
Then apply  RAD Shield Mineral Sunscreen in an even layer to face, neck and décolleté and all areas exposed to the sun.
Reapply frequently, every 90 min to 2 hrs to achieve optimal protection.
May appear opaque if applied thickly, but this will provide even better sun protection.
Key Ingredients
Titanium dioxide, Zinc Oxide, Venuceane™, Vitamin E, Solanum Lycopeersicum (Tomato) Fruit Extract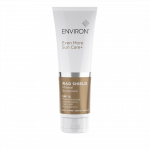 Why choose ProSkin for your skin care needs?
We pride ourselves on exceptional service, we aim to deliver and exceed in both results and level of service.
When you make a purchase through ProSkin you will earn loyalty points on every order. You have the ability to achieve bonus points when available, and you'll also be granted access to future savings before they are released to the public.
You can use your points to earn fantastic rewards whether this be using your points against the value of your future orders, treatments, to purchasing gift vouchers instore or online, it's completely restriction free!
This rewards and thanks our clients for choosing ProSkin for their skin care journey.
You can find out more about award winning Environ Ranges Here. Environ is a Globally recognised and loved professional skincare brand built on science to deliver results.