Due to the active nature of the ingredients within the Environ® range, all new customers will need to complete this short consultation form before their order can be dispatched. Please ensure this has been completed before submitting your order
Derma-Lac Lotion is a lightly fragranced lotion that helps to soften the texture of rough areas on your skin, such as elbows and heels, whilst also helping to boost the effects of skins moisture levels. It helps re-energise dull, tired-looking skin, and assists in gently exfoliating the skin and in improving the appearance of skin tone and texture, leaving it looking healthy and beautiful.
Benefits of Derma-Lac Lotion
Softens the texture of rough, calloused skin.
Re-energises the appearance of dull skin so that it looks visibly improved and more radiant.
Speeds up the appearance of skin renewal, leaving it looking smooth and refreshed.
How to use
Apply to your entire body, morning and evening, to help soften and create the appearance of smoother skin.
For the best overall body care, always use with your recommended Environ vitamin A body products.
Combat the feeling of very dry skin and dry climatic conditions by using on the face as an occasional hydrating boost.
Key Ingredients
Pronalen modeling, Guarana, Myriceline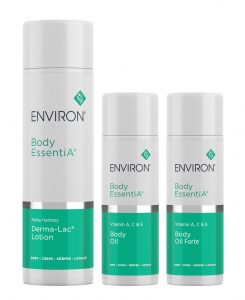 Why choose ProSkin for your skin care needs?
We pride ourselves on exceptional service, we aim to deliver and exceed in both results and level of service.
When you make a purchase through ProSkin you will earn loyalty points on every order. You have the ability to achieve bonus points when available, and you'll also be granted access to future savings before they are released to the public.
You can use your points to earn fantastic rewards whether this be using your points against the value of your future orders, treatments, to purchasing gift vouchers instore or online, it's completely restriction free!
This rewards and thanks our clients for choosing ProSkin for their skin care journey.
You can find out more about award winning Environ Ranges Here. Environ is a Globally recognised and loved professional skincare brand built on science to deliver results.