Due to the active nature of the ingredients within the Environ® range, all new customers will need to complete this short consultation form before their order can be dispatched. Please ensure this has been completed before submitting your order.
Botanical Infused Sebu-Tone Clarifier specially formulated with clarifying exfoliators and sebum regulating ingredients this toner helps to remove the build-up of dead skin cells and assists in minimising the appearance of an oily shine.
Warning - This product contains salicylic acid as a keratolytic agent. Avoid using this product if any known allergies to the ingredients exist. Avoid if allergic to Aspirin.
Warning - This product contains an Alpha Hydroxy Acid (AHA) and Beta Hydroxy Acid (BHA) that may increase your skin's sensitivity to the sun and particularly the possibility of sunburn. Use a sunscreen, wear protective clothing, and limit sun exposure while using this product and for a week afterwards.
Benefits of Botanical Infused Sebu-Tone Clarifier
Regular use helps to improve your skin's overall tone and texture.
Helps to remove the build-up of dead skin cells.
Assists in minimising the appearance of an oily shine.
How to use
After cleansing with Sebu-Wash Gel Cleanser, tone the face using this clarifying toner on cotton wool, gently wiping the cotton wool over the face.
Use morning and evening before applying Sebu-Lac lotion and Sebu-ACE Oil.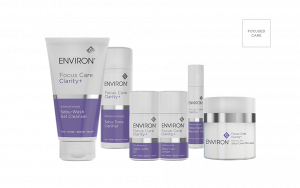 Why choose ProSkin for your skin care needs?
We pride ourselves on exceptional service, we aim to deliver and exceed in both results and level of service.
When you make a purchase through ProSkin you will earn loyalty points on every order. You have the ability to achieve bonus points when available, and you'll also be granted access to future savings before they are released to the public.
You can use your points to earn fantastic rewards whether this be using your points against the value of your future orders, treatments, to purchasing gift vouchers instore or online, it's completely restriction free!
This rewards and thanks our clients for choosing ProSkin for their skin care journey.
You can find out more about award winning Environ Ranges Here. Environ is a Globally recognised and loved professional skincare brand built on science to deliver results.