THE BREAKOUT PLAN
Are you tired of battling stubborn breakouts and dreaming of a smoother complexion?
Your journey to clear, radiant skin begins right here.
Welcome to ProSkin Clinic & Health UK where we bring you the breakthrough solution you've been waiting for.
ARE YOU READY TO HAVE THE SKIN YOU'VE ALWAYS DREAMED OF?
The science-backed breakout plan for a blemish free skin!
Doctor founded and formulated, scientifically proven to:
☑️ Reduce and clear acne breakouts
☑️ Smoothen texture of the skin
☑️ Reduce redness
☑️ Provide clarity and brighten
☑️ Enhance complexion
☑️ Plump and hydrate
☑️ Reduce scarring
☑️ Reduce hyperpigmentation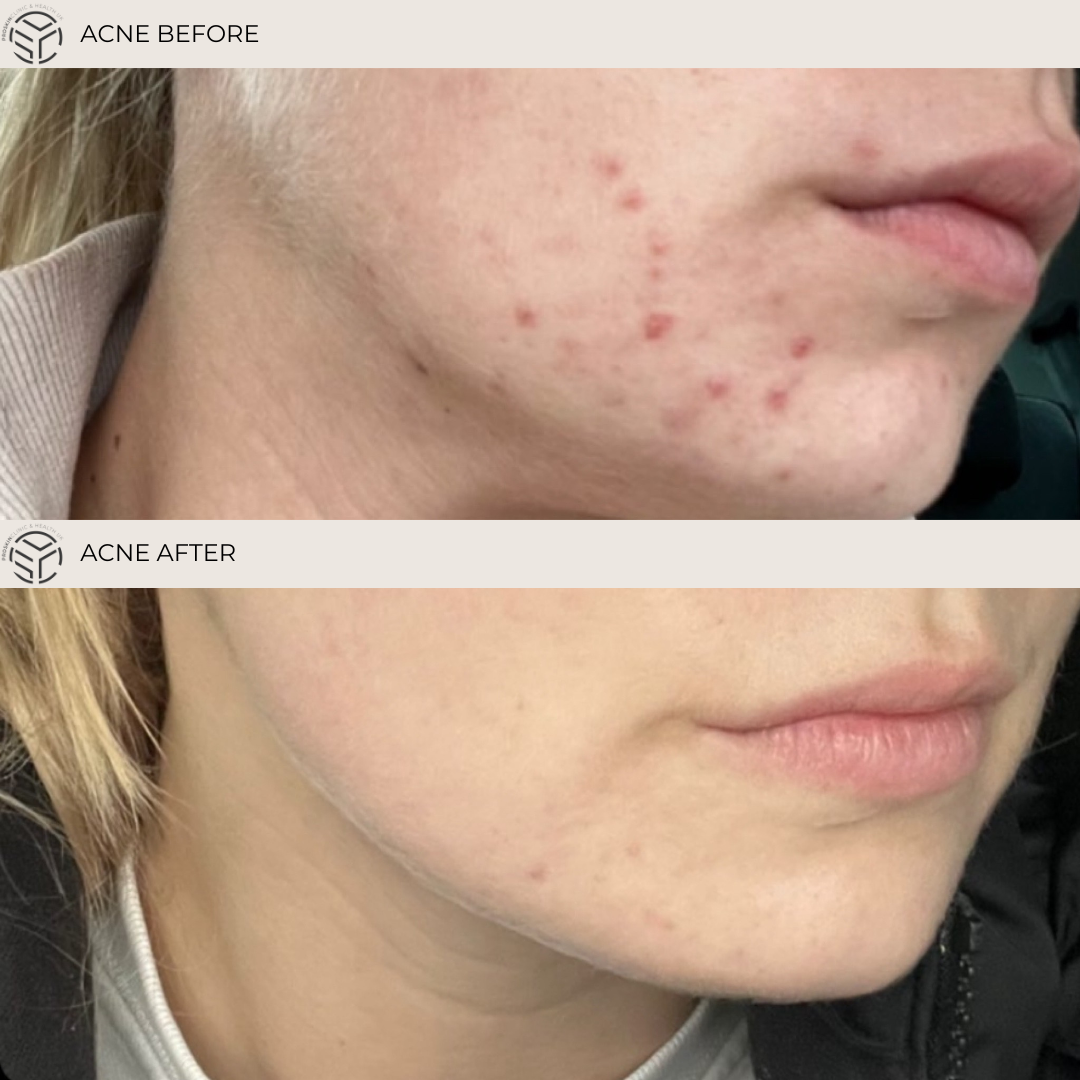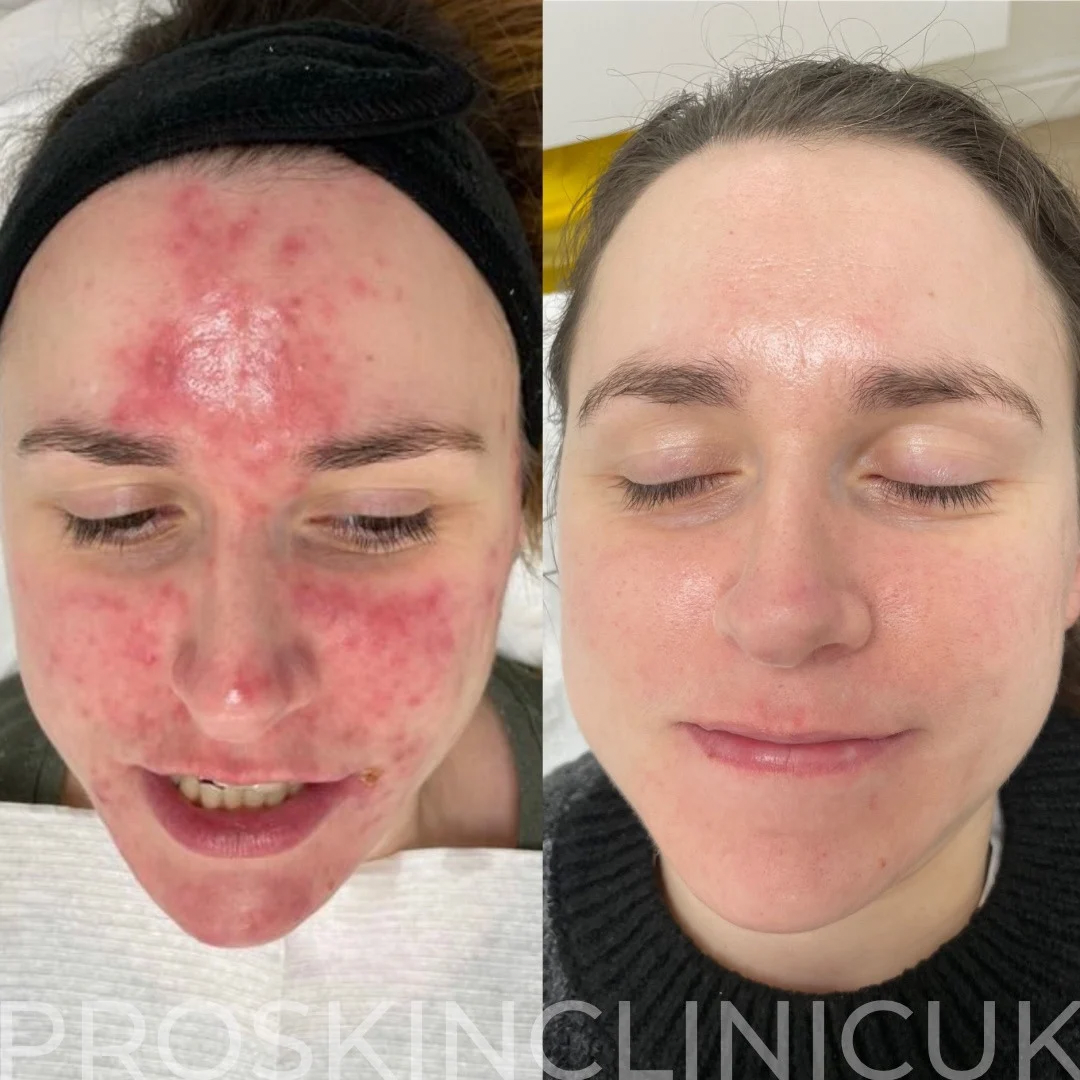 Whats included in the breakout plan?
Enjoy a complimentary hot drink on arrival and prepare for a transformative consultation experience designed to target your most problematic concerns.
Including…
✅ Comprehensive Skin Assessment:
Our expert Clinician will analyse your skin to identify the specific triggers of your breakouts.
✅ Mini Breakout Treatment:
Enjoy the power of our Mini Breakout Treatment, featuring targeted solutions to banish breakouts, clear your skin, and boost your confidence.
✅ Premium Skincare Products:
On the day access to our exclusive line of professional skincare products available to purchase on our prescription, designed to enhance your at-home skincare routine at an exclusive rate to get you started.
✅ A Customised Treatment Plan:
Based on your assessment, we'll create a personalised skin plan that includes recommended treatments tailored to your skins needs, prescriptive product recommendations, and lifestyle recommendations. This bespoke pdf plan will be sent directly to your inbox.
✅ Ongoing Support:
We'll be with you every step of the way, providing guidance, monitoring progress, and making adjustments as needed.
All for just £65.
Discover the Secret to Blemish Free Skin
At ProSkin Clinic & health UK we understand the frustration that comes with acne-prone skin. Our expert Clinicians have curated the perfect plan with DR founded formulations to help you achieve your skincare goals.
Here's why our Breakout Plan stands out:
Personalised Care:
Say goodbye to one-size-fits-all solutions! Our Clinicians will assess your unique skin type and create a tailored plan just for you.
Proven Results:
Our Breakout Plan is backed by years of success stories. We've transformed countless lives with our effective treatment plans.
Cutting-Edge Technology:
We use the latest advancements in skincare technology to target breakouts at the source, leaving your skin refreshed and rejuvenated.
Holistic Approach:
Our plan addresses not only the symptoms but also the root causes of acne, giving you lasting results.
Expert Guidance:
You'll be guided by a team of experienced professionals who are committed to your skincare journey.
ARE YOU READY TO HAVE THE SKIN YOU'VE ALWAYS DREAMED OF?
Don't let breakouts hold you back any longer. It's time to unveil your skin's true potential. Take the first step towards radiant, blemish-free skin with our Breakout Plan today.
What problems are you looking to solve?
Reduce and clear acne breakouts
Our Breakout Plan is designed to effectively reduce and clear acne breakouts, providing you with clearer, healthier skin. With personalised treatments and expert guidance, we target the root causes of acne.
Smoothen Texture
Our Breakout Plan is your path to smoother, more radiant skin. Our expert treatments and tailored skincare and supplementation recommendations work together to minimise imperfections, leaving your skin visibly smoother and refreshed.
Reduce redness
Our Breakout Plan is your solution for reducing redness, unveiling a calmer and more even-toned complexion. Discover the confidence that comes with clearer, more radiant skin.
Clarity
Our Breakout Plan is your key to achieving clarity and a brighter, luminous complexion. Experience the transformation as your skin radiates with renewed vibrancy on a plan with life changing results.
Enhanced complexion
Our Breakout Plan is specially crafted to enhance your complexion, revealing your skin with a healthier, glowing skin tone.
Dull Skin
Our Breakout Plan not only tackles breakouts but also rejuvenates your skin, leaving it plumped, nourished, and beautifully hydrated.
Reduce Scarring
Our Breakout Plan is your ally in reducing scarring, restoring your skin's smooth and flawless texture for a more confident you.
Reduce hyperpigmentation
Our Breakout Plan is your ally in reducing scarring, restoring your skin's smooth and flawless texture for a more confident you.
What our clients are saying about the BREAKOUT PLAN…
ProSkin Clinic & Health UK ltd have completely transformed my skin! I had suffered with acne on my face for over 10 years. With their help, I now have clear skin, something which I couldn't achieve after multiple trips to the doctors and dermatologists.

I highly recommend ProSkin to those who suffer with acne, it is an investment but 100% worth it.
I felt so self conscious about my acne, yet ProSkin Clinic & Health UK made me overcome that with their treatments and great advice. The team are always so friendly and have given me back my confidence.
I've really struggled with hormonal acne for years, the past year being the worst… Wow, how my skin has changed. What a wonderful company Proskin is and I cannot believe the results. All the Proskin team are lovely and on call to help you! I have learnt so much, the importance of healthy skin from the inside out,
What to do when you have a breakout and the effects of the sun! If anyone needs skin help, please get in touch with Proskin, you will find the experience wonderful and will feel so well looked after!
Ashleigh and Amelia are helping my son with treatments for acne. They have been absolutely wonderful and genuinely want to help him. They are always friendly and comforting and more than happy to answer any questions or concerns we have.
THE BREAKOUT PLAN
For just £65 book your pathway to battling the stubborn breakouts and start your transition to a smoother complexion!